Meaning Of Yellow (Gold) Shamballa Bracelet - Color Of Will & Optimism
Close your eyes for a moment to look for the image that comes on your mind when you think of the word 'yellow'. You are sure to see the glorious image of the sunshine at the break of day. It is a great sight to watch the beautiful sunflowers in yellow welcoming the rising sun. Why does the color yellow fill your heart? Yellow is a special color that is associated with positive energy. Some faiths believe that yellow is an auspicious color. Yellow means wisdom and joy and who would not want both? And if they could get it in the form of yellow shamballa bracelet, who would say 'no'?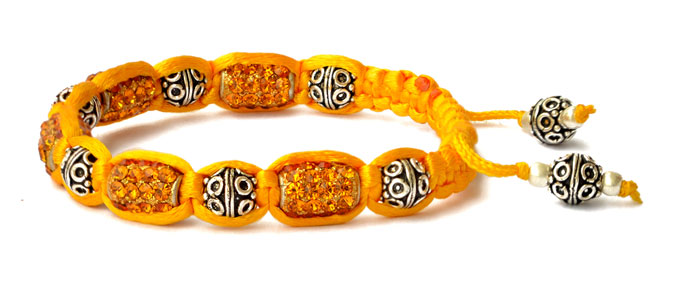 Yellow Shamballa Bracelet
Shamballa bracelets are growing in popularity. These beaded bracelets have their roots in Buddhism. The mythical kingdom Shamballa, which stood for tranquility and peace, is the inspiration for Shamballa jewellery. Shamballa bracelets were worn to attain supreme concentration while on meditation. Shamballa bracelets carry the influence of Buddhism, yoga and meditation. Hence, Shamballa bracelets are worn to enhance life force, improve quality of life, improve health, attain inner peace and maintain harmony. Shamballa bracelets come in many colors and each color has some unique characteristics. Some of the popular bracelets are red shamballa bracelets and violet shamballa bracelets.
Yellow Shamballa bracelet associates with creativity, wisdom and happiness. If you hope to enhance the power within you, you could use yellow shamballa bracelet to help you with the process. Reasoning power increases and you get more analytical if your solar plexus is strong and performing well.
Why Yellow Is Special?
If you like yellow, it means that you are creative and you are spontaneous with fresh ideas. Yellow means perfection, systematic and cheerful. The traits associated with yellow are not over yet. Some other characteristics include intellect, down-to-earth attitude, optimism and high level of communication. Yellow illuminates and offers happiness, hope and keeps the atmosphere cheerful.
Yellow And Solar Plexus Chakra
Yellow is associated with Solar Plexus Chakra, which is located below the ribs. The organs associated with Solar Plexus are stomach, spleen, small intestine, pancreas, digestive organs, liver, muscles and middle back. The physical problems associated with the chakra are peptic ulcer, liver disease, diabetes, coeliac's disease and stone in gall bladder. The personality traits associated with the chakra include optimism, wisdom, practical and confidence. If you consider that you need to empower yourself with any of the traits mentioned here or if you find your health condition associated with this chakra, you need to activate the chakra to achieve desired results.
Tell Your Favorite Color And Know Yourself
To an extent, it is possible to scan your character with the help of the color you like. At least that is what color psychologists say. Everyone has a choice and that means everyone has certain characteristics associated with a color. If you do not have a choice, at least not the one you identify, you only need to look around you. Take some time to look at the colors of clothing, furnishings, your vehicle or anything and every thing that involved your choice while buying. You will definitely identify your preference and dislikes. Color psychologists claim that the colors you dislike could also express your character the focus being on your weaknesses. A color you hate the most could mean that you need attention to the traits associated with the color as you may be lacking in them. This is why, they suggest that you use the shades you dislike as well as such usage will help balance your life and energy.
Colors do have a meaning and they are associated with certain traits (click here to view the shamballa bracelet meaning of different colors). You could do your best by going for the best of traits. Yellow has great characters to consider. You could bring cheers all around, make every one happy, take the initiative and be creative. This is what every one loves to do and if you are already the right fit and if you are gifted with the right stuff, go with yellow and enhance it.