Meaning Of Green Shamballa Bracelet - Color Of Self-Control
Shamballa bracelets have caught up with the fascination of the people. It is not just a fashion accessory; it has profound meaning and historical value. The Buddhists in India and Tibet believe that Shamballa, a mythical kingdom is located in the Himalayan valleys. The kingdom, which is a place of eternal love, enlightenment and peace, is not easily accessible. It is believed that a person who obtains spiritual enlightenment only will be able to reach Shamballa. Shamballa beads were used by the Buddhists while meditating. Shamballa bracelets have healing power; they bring harmony and elevate the spirituality in a person. Shamballa bracelets are celebrated as they represent a rich culture and promote inner peace. The unique work of Shamballa bracelets is an added attraction.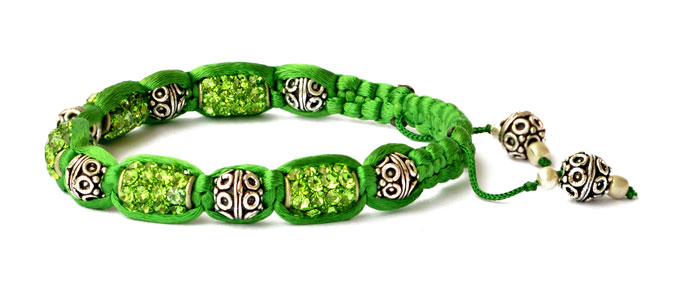 Green Shamballa Bracelets
Shamballa bracelets come in various colors including black, white, green, yellow and so on. Every color is associated with certain traits, physical and mental well-being and it would be fine if you could base your choice on the need to develop or enhance particular traits.
Green Shamballa bracelets represent renewal, harmony and balance. They enhance relationships by developing the quality of acceptance and forgiveness. Green Shamballa bracelets give meaning and purpose to life as they promote kindness, renewal and care. In short, wearing green Shamballa bracelets will improve your state of mind to reach the perfect altitude where you will be ready to offer unconditional love and affection to those around you. Green Shamballa bracelets are made of emerald, malachite, amethyst and cubic zirconia.
Green And Heart Chakra
The color green is associated with Heart Chakra, one of the seven energy centers in our body. The chakra helps to relieve emotional stress and displays love and harmony. It promotes self-control. The personality traits associated with Heart Chakra are compassion, generosity, acceptance, understanding, self-control, adaptable and a love for nature. The most important trait is the balance in thought and action. Heart Chakra improves your mental attitude by making you love others unconditionally and gracefully accept others' love and faults.
On the physical level, Heart Chakra is associated with heart and the breasts. The physical conditions associated with Heart Chakra include heart ailments, diseases occurring due to lack of immunity, breast cancer and allergies. To stay away from such conditions and improve immunity power and the lovable personality traits associated with Heart Chakra, wearing green Shamballa bracelets would be the right choice.
What Is In A Color?
Color is not just different shades; they represent different characters. You like a color and that means you have the influence of the color and that would be evident in your traits. Color psychologists claim that your like and dislike for certain colors highlight your character and wearing a combination of various colors, whether you like them or not, will help to improve where you lack.
From the perspective of color psychology, the color green balances your heart and emotions. Green has more meaning; it denotes rebirth, renewal and it is the color that announces the arrival of spring. It relieves you from stress, anxiety and it refreshes you. Green helps you remain strong emotionally as it gives you the best traits concerning emotions. It gives you the ability to offer love expecting nothing in return. You can easily associate the traits associated with the color as you would have experienced peace and tranquil in a natural atmosphere where you behold nothing but the beauty of nature.
Green Shamballa Bracelets, The Balancer
Green Shamballa bracelets could be a great balancer as they give you a strong sense of judgment. By wearing green Shamballa bracelets, you are able to see the right and wrong in everything and stand by the right. These bracelets give you the tendency to endure and remain stable physically and mentally.