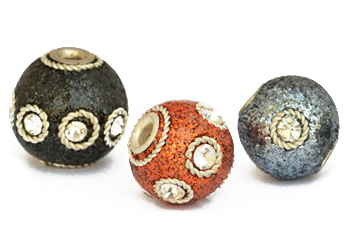 Maruti International® was established in 2002 and is respected in the industry for providing high quality hand crafted Maruti, Kashmiri & Lac beads. In 2004 Maruti International began exporting their beautiful products worldwide…and so it all began!
At Maruti Beads expert artisans individually handcraft our products. What this means to our customers is…that every order is custom made to the highest quality standards.
Another feature that places us above the competition is… the reality that all of our products are made on premises in our artisan's studio by a select team of master craftsmen. This allows us to carefully monitor for quality control and eliminate the middleman… passing significant savings on to you.
Maruti Beads designs range from traditional and ethnic to contemporary styles, guaranteeing that our customers will find something suitable for every taste and mood. For the customer looking for something to express their individuality we can customize to your hearts content.
At Maruti International® and MarutiBeads.com we make some of the most exquisite beads you will find anywhere. Quality is our promise and commitment to excellence in service is our pleasure.
Marutibeads.com online bead and jewelry store is owned by Maruti International® (India). Registered with the Directorate General of Foreign Trade (DGFT), the Registrar of Indian Firms and the Export Promotion Council of Handicrafts (EPCH).