Meaning Of White Shamballa Bracelet - Color Of Purity & Perfection
Who would not love purity and who would not love perfection? Your qualities make you or ruin you. Hence, it is natural that you pay attention to your traits and enhance the best qualities in you to elevate your state of life. Life is all about quality and hence presenting yourself highlighting the purity element in you could do wonders to your personal and professional life. One of the ways to achieve it is using white Shamballa bracelet, which reflects purity and perfection.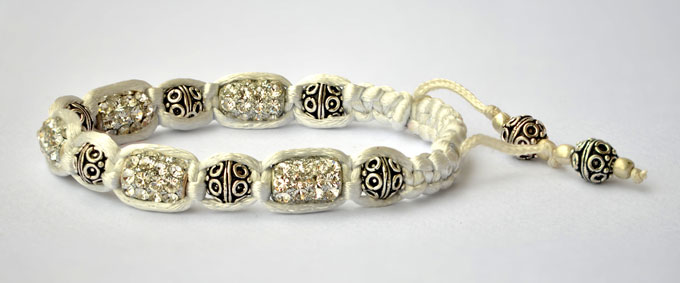 White Shamballa Bracelet
Being the color of purity and perfection clubbed with innocence, white marks the beginning of many new things. White Shamballa bracelets increase the life force. It helps to heal the body and soul and elevates you spiritually to a higher plane. White shamballa bracelet goes well with all colors. Either all white or white amidst a different color pattern would make for a perfect setting. You can have your white shamballa bracelet made of white diamond, crystal, white sapphire, opal and quartz.
White has a special place among colors as it signifies purity and perfection. White Shamballa bracelet influences your body and soul as it enhances your healing power and represents integrity, innocence and contentment. It marks new beginnings and it is a color to show enthusiasm. Wearing white Shamballa bracelets enhances these traits in you and helps you move dedicatedly with a clarity of vision. White denotes that you maintain strict standards with regard to cleanliness. It shows you are balanced, logical and cautious in your approach. White is all about simplicity and independence.
Celebrities In White Shamballa Bracelets
United States singer Keri Hilson was seen sporting white Shamballa bracelet in an event. Kim Kardashian, famous television personality in America and an occasional actor was looking stunning with white Shamballa bracelets adorning her hand. The market for white Shamballa bracelets is growing and you can find more and more celebrities joining the list.
Colors And Character
Colors are not just to add beauty to the appearance, be it on you or your home. Shamballa bracelets with colors have meaning. Psychiatrists associate colors with moods and attitudes. Whatever the shade you like, you have your character defined, to a certain extent. You may not fit into all the traits that are associated with a color but to a certain degree, your likes and dislikes for a color are related to your character.
Jewellery And Your Favorite Color
Buying jewellery with the favorite color is very common these days. Green shamballa bracelets, blue shamballa bracelets and indigo shamballa shamballa bracelets are highly sought after these days. Jewellery stores customize jewellery and colors to suit the needs of the individual. Various charts comprising different color tones are available with jewellery stores and you have a great option of customizing from their range of collections. People mostly base their choice to match their skin tone, eye tone, eye bead, hair tone, hair bead and so on. However, more than the appearance, it is the character that makes a man. Hence, while you purchase Shamballa bracelet, ensure you go for the color that would be perfect for you and highlight your character.
White For Wise Choice
As said earlier, every color has a meaning and every color is associated with certain traits. The color you wear on you could influence the qualities in you and help to enhance the traits that are associated with the color. Your choice helps to promote your physical and emotional levels in the areas where you feel you need to do better. Make a wise choice by going in for white Shamballa bracelet that would not only accentuate your looks but also enhance your quality as a whole. After all, who would not love purity and perfection, particularly in others?