Meaning Of Black Shamballa Bracelet - Color Of Strength & Authority
If you are wondering what color you should choose for your Shamballa bracelet, you could consider black. Black is authority, black is bold, black is strength, black is elegant and black is prestigious. Absorption of all colors and absence of light is black color. The traits of the color make it appealing and so is its elegant look.
Every color of Shamballa bracelet has meaning and every color is associated to certain traits. Colors have a role to play in your mood, in your thought process and your attitude towards self and others. Black is the right color if you want to pronounce your statements boldly and mark your presence with authority.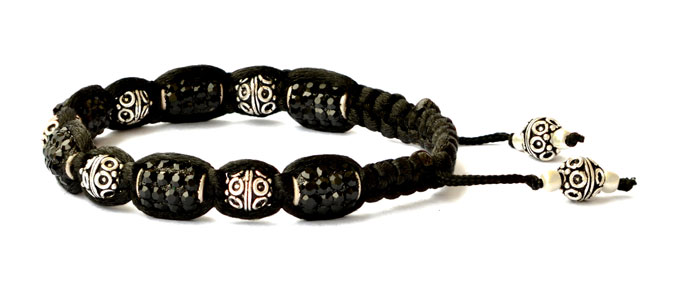 Black Shamballa Bracelet
Shamballa bracelets are gaining more prominence in the fashion world. Originally considered as a symbol of peace and enlightenment, Shamballa bracelets' attraction draws the cross section of the society towards them and the fashion world is setting the mode. Tibetan people who follow Buddhism believe that Shamballa, a mythical kingdom is located in the valleys of Himalayas. The people of the kingdom were compassionate and they loved peace. Shamballa beads were used while meditating and to enhance the quality of one's mind. Shamballa beads are used in the making of Shamballa bracelets. The beads were either knotted or threaded using a cord. All materials from clay to diamond beads are used in the making of Shamballa bracelets.
Of all the colors, black shamballa bracelets are preferred the most. They are invariably the first choice of most of the buyers. Black Shamballa bracelets denote power. They are connected with authority and elegance. If you are looking to add a touch of authority to your appearance, look more ravishing and yet formal, black Shamballa bracelets are the right ones for you. If you are planning quite an investment on black Shamballa bracelet, you may go for black diamonds on black Shamballa bracelets. Apart from that you might prefer yellow, green or blue over black; but whatever you choose, black Shamballa bracelet is guaranteed to produce results.
Magical Black
Black is a favorite color of artists, fashion designers and those who have a keen eye for beauty. Jay Z, the famous American rapper cum record producer is seen sporting black Shamballa bracelet for the cover of the magazine Gotham. Justin Bieber, the famous US singer is seen wearing black Shamballa bracelets. Black looks great on people who are authoritative and sophisticated. It accentuates the looks of a person by causing an impact on the appearance. It is prestigious and hence it goes well with people who are successful. Black also denotes sexuality and hence it would be a great choice as a party wear. The famous saying that 'Black is beauty' says it all about the magic of the color black.
Are Colors For Eyes Only?
Of course not! Colors are not just associated to vision but they extend beyond. Different colors are associated to different traits and hence choosing a color should not be limited to your visual delights only. Colors represent you, your character and adding a dash of a particular color will help develop a trait associated with the color.
Present Perfect
The unique color gives you a touch of style, elegance and authority. It makes for a perfect present if you are looking to buy your love a gift. Men prefer black Shamballa bracelets, which accentuate their looks and help make their statement in style. It makes a perfect fit if the person who is supposed to wear it is authoritative as black spells authority. If you are particular about how you should look when you are in a gathering, be it a party or any other type of gathering, you need to use black which will show you distinctly apart from others, in style and just let the mysterious look add to your grace.